DISCONTINUED SOFTWARE POWERDIFFMERGE
Munich, 30. September 2020
Expleo Germany GmbH announces that PowerDiffMerge will be discontinued with End Of Life Date on 30. September 2020.
Twenty-four (24) months after the "End Of Life Date" licences will not anymore be provided or renewed and the operation of the software will no longer be granted.
APPLICATION AREA
PowerDiffMerge is a unique graphic tool for the comparison and combination of different versions of IBM® PowerDiffMerge Rational® Statemate® models. Logical analysis of the IBM® Rational® Statemate® models is used to detect new, deleted and changed objects, which are shown in representations of the model diagrams.
The user can easily combine these changes, either partially or as a whole, into a single result model and is informed about potential conflicts. A large part of this process can automatically be performed by PowerDiffMerge and only requires semantic acceptance by the user. This simplifies the very work-intensive and fault-prone manual combination of models, which otherwise has to be performed by using a text editor and without support for the IBM® Rational® Statemate® Syntax. PowerDiffMerge further offers the option of compiling a protocol of the combining steps already performed or to validate the combined diagrams at any time.
All these characteristics make PowerDiffMerge an excellent tool for saving time and costs, in particular in complex and extensive projects with a large number of IBM® Rational® Statemate® models.
FUNCTIONS AT A GLANCE
Visual comparison and combination of two or several IBM® Rational® Statemate® models
Automated combination of models
Two types of combinations, including Delta-Merge
Repeat / reverse function
Storage and resumption of processing steps
Filter functions
Protocol generator for tracking changes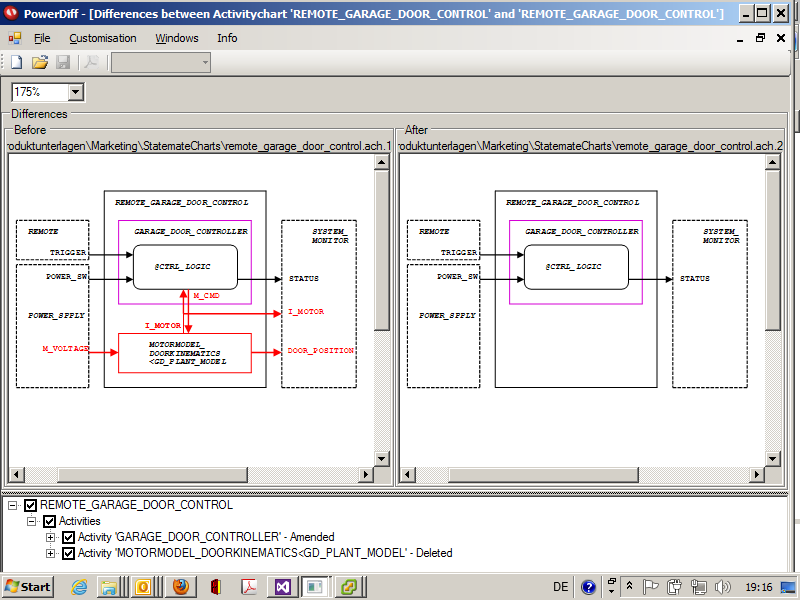 BENEFITS OF POWERDIFFMERGE
Logical comparison and combination of IBM® Rational® Statemate® diagrams
Visualisation of differences in IBM® Rational® Statemate® models
Faster analysis and model differences
Support in conflict resolution during combination
Automated combination for most of the simple cases
SERVICE & INFORMATION
Technical Support contact
Support per phone (09:00 – 17:00 MEZ): +49 89 608090-333
Offer and order contact
Download
Installation PowerDiffMerge. Please log in with your login data.
License & Support Conditions
Similar products: POWERDIFF – Diff-Tool for IBM Rational Statemate Models. Find out more here.